Easy Omega-3 + Vitamin D3
€29.95 / 225ml / 45 Servings
Delicious, creamy, smoothie-like Omega-3 supplement with added Vitamin D3. Natural peach-mango flavour. 450mg Omega-3 and 200IU Vitamin D3 per 5ml serving. Enjoy straight from the spoon or add to smoothies, yogurt and more. Manufactured using patented emulsion technology for optimum nutrient absorption.
Suitable for adults and children.
€29.95 — available on subscription from
every 2 weeks
Omega-3 fatty acids are a type of fat or more specifically, a type of good fat. Good fats are an essential part of a healthy diet and vital to many functions within your body. There are three main omega-3 fatty acids: Docosahexaenoic acid (DHA), Eicosapentaenoic acid (EPA) and Alpha-linolenic acid (ALA).
DHA and EPA have essential parts to play at every stage of life in supporting your optimal health and well-being, especially your brain, heart and eye health. DHA and EPA are important structural components of cell membranes throughout your body and together they have a vital role in cell membrane function. DHA makes up around 97% of all omega-3s in your brain and accumulates in the parts of the brain associated with learning and memory. DHA accounts for around 93% of the omega-3s found in your eyes.
Your body can produce DHA and EPA from omega-3 ALA (found in some nuts, seeds and plants oils), but this occurs in only very limited amounts. The best dietary source of DHA and EPA is fish, especially cold-water oily fish, such as salmon, mackerel, tuna, trout, herring and sardines. Learn more.
In an ideal world, you would get all the omega-3s you need to keep healthy by eating oily fish weekly. In reality, this can be quite challenging and even more so when it comes to children. Supplementation is advisable to bridge the potential nutritional gap and promote optimal health.
Vitamin D is a fat-soluble vitamin essential throughout life. Sunshine is where most of your Vitamin D comes from which is why Vitamin D is often called the "Sunshine Vitamin". Your diet generally only provides a small amount of Vitamin D because very few foods naturally contain this vitamin.
Insufficient daily sun exposure to make adequate levels of Vitamin D in your skin, coupled with diets that are generally low in Vitamin D, makes Vitamin D deficiency very common. Supplementation is advisable to avoid deficiency and ensure optimal health benefits.
SOMEGA Easy Omega-3 + Vitamin D3 is high in omega-3 DHA and EPA and high in Vitamin D, scientifically proven to have the following health benefits:
A daily intake of 250mg DHA helps maintain normal brain function
A combined daily intake of 250mg DHA and EPA helps maintain normal heart function
A daily intake of 250mg DHA helps maintain normal vision
Vitamin D supports the normal function of the immune system
Vitamin D supports the maintenance of normal bones, teeth and muscle
Vitamin D contributes to normal absorption and utilisation of calcium and phosphorus needed to build and maintain bone tissue. Contributes to normal blood calcium levels
When you consume oil or fat, your body has to work hard to break it down with digestive enzymes and bile in order to emulsify and micronize it (mix it with water and reduce it into smaller, easier-to-absorb molecules). Once emulsified, these molecules travel down into your intestine, where they are absorbed through the intestinal wall.
Unlike regular fish oil liquids and capsules, SOMEGA Easy Omega-3 + Vitamin D3 is an emulsified fish oil supplement so your body doesn't need to work so hard. Emulsifying fish oil enhances the digestion and the absorption of the omega-3 fatty acids into the bloodstream for optimal health benefit.
Full Ingredient List: Purified water, fish oil (30%) (sardine and anchovy), emulsifier: glycerin, xylitol; acid: citric acid; oleic acid, vitamin E, vitamin D3 (as cholecalciferol), natural colours: beta-carotene, turmeric; natural flavours, thickener: acacia gum.
Allergens: see ingredients in bold.
Nutrition Information
Serving (5ml)
%NRV
Fish Oil
1500mg
*
Omega-3 Fatty Acids of which
450mg
*
- Eicosapentaenoic Acid (EPA)
263mg
*
- Docosahexaenoic Acid (DHA)
113mg
*
Vitamin D
5µg (200IU)
100%
Vitamin E
2mg
17%
NRV: Nutrient Reference Value
* NRV Not Established
Adults: Take 1-2 teaspoons (5-10ml) daily, or as directed by a healthcare professional.
Children: Take 1 teaspoon (2 to 11 years), 1-2 teaspoons (12+ years) daily, or as directed by a healthcare professional.
Enjoy straight from the spoon, mix easily into smoothies and yogurt, or drizzle on porridge, pancakes and more. Can be used as an ingredient to make healthy and delicious SOMEGA Energy Bites.
Caution: SOMEGA Easy Omega-3 + Vitamin D3 is a food supplement and should not be used as a substitute for a varied and balanced diet. Do not exceed recommended daily dose. If you have a medical condition or are taking medication, please consult with a healthcare professional before use. Keep out of reach of children.
"My husband and I are delighted with this omega-3 supplement. We have tried everything from cod liver oil to capsules but the taste is just so fishy that we end up throwing them out. We actually look forward to taking this one and put it in smoothies or pour it on our porridge every morning without fail. We have converted our friends now too!"
– Trish

"My kids are tough to give good reviews but they ask for this everyday!  Saying more, more, more! They would suck it from the bottle. The genuine problem is trying to stop them having only the recommended daily amount!"
– G Mc.

"Love this. Delicious taste. Highly recommend."
– Catherine D.

450ml / 30 Servings

€38.99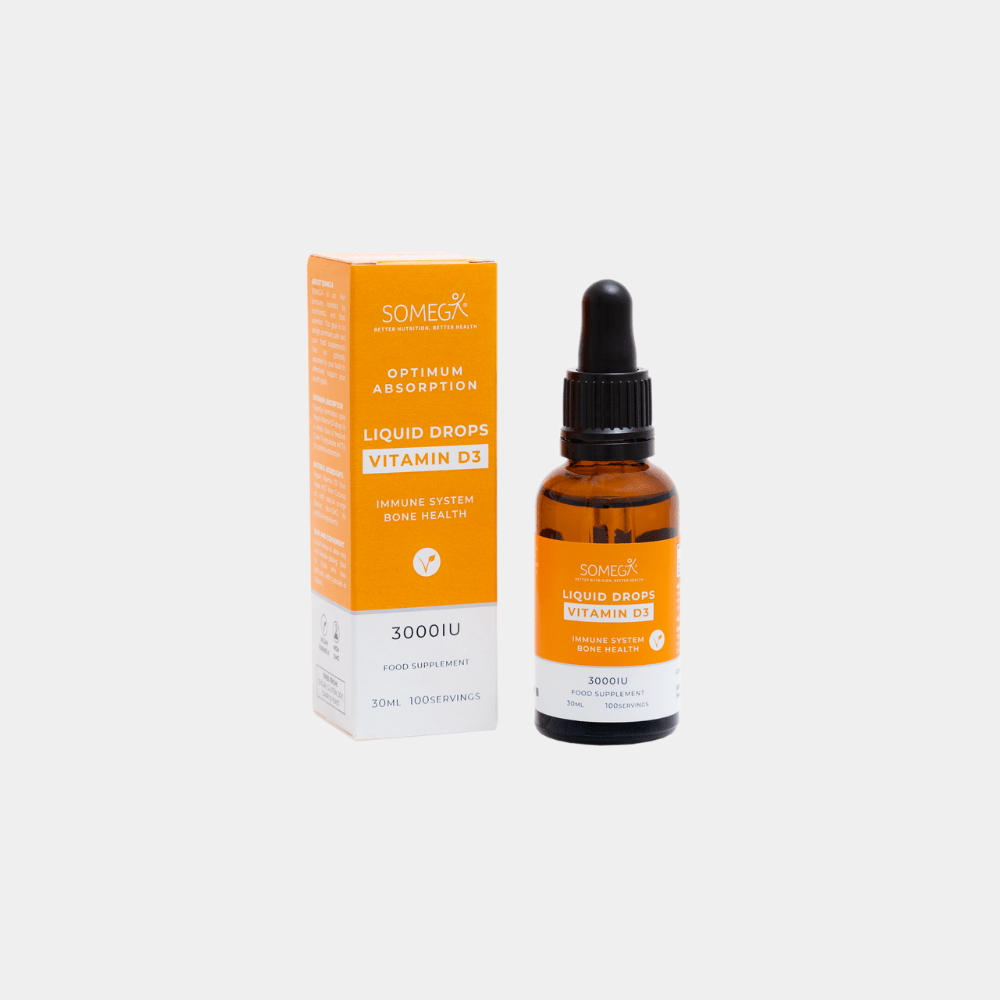 30ml / 100 Servings

€19.95