€14.95 / 15ml / 120 Servings
Pure and natural Vitamin D3 Oral Spray with natural orange flavour. High strength with 3000IU per serving. Expertly formulated to be optimally absorbed through the soft tissue of the mouth.
Suitable for adults.
€14.95 — available on subscription from
every 2 weeks
Vitamin D is a fat-soluble vitamin essential throughout life for a healthy immune system, healthy bones, teeth and muscle and good overall health.
Sunshine is where most of your Vitamin D comes from which is why Vitamin D is often called the "Sunshine Vitamin".  Vitamin D, in the form of Vitamin D3, is made in your skin when it is exposed to sunlight. Many factors affect the amount of Vitamin D your skin makes, including season and location. In Northern European countries like Ireland, the sun is not strong enough from the months of October to March to allow your skin to make any Vitamin D. Applying sunscreen lowers the amount of Vitamin D your skin can produce, as does aging.
Your diet generally only provides a small amount of Vitamin D because very few foods naturally contain this vitamin. Oily fish, such as salmon and mackerel, and fish liver oils are the best sources.
Insufficient daily sun exposure to make adequate levels of Vitamin D in your skin coupled with diets that are generally low in Vitamin D, makes Vitamin D deficiency very common. Supplementation is advisable to avoid deficiency and ensure optimal health benefits.
SOMEGA Vitamin D3 Oral Spray is high in Vitamin D, scientifically proven to have the following health benefits:
Supports the normal function of the immune system
Supports the maintenance of normal bones
Contributes to normal absorption and utilisation of calcium and phosphorus needed to build and maintain bone tissue. Contributes to normal blood calcium levels
Contributes to the maintenance of normal muscle function
Supports the maintenance of normal teeth
SOMEGA Vitamin D3 Oral Spray provides a convenient and effective alternative to traditional Vitamin D tablets and capsules which depend on your digestive system for vitamin absorption.
SOMEGA Vitamin D3 Oral Spray is intra-orally absorbed, in other words, it makes use of the absorption potential of your mouth instead of having to rely solely on your digestive system. Within your mouth, the Vitamin D is rapidly and effectively absorbed into the tiny blood vessels under your tongue and is transported from there into your bloodstream to be used by the body.
Full Ingredient List: MCT (medium chain triglycerides) from coconut oil, vegan Vitamin D3 (cholecalciferol) from algae, natural flavour: orange, Vitamin E.
Allergens: see ingredients in bold.
Nutrition Information
Serving (1 Spray)
%NRV
Vitamin D3
75µg (3000IU)
1500%
NRV: Nutrient Reference Value
Adults: Take one spray (3000IU Vitamin D3) directly into mouth daily or as directed by a healthcare professional.
Caution: SOMEGA Vitamin D3 Oral Spray is a food supplement and should not be used as a substitute for a varied and balanced diet. Do not exceed recommended daily dose. If you have a medical condition or are taking medication, please consult with a healthcare professional before use. Keep out of reach of children.
"Nicest Vitamin D spray/product I've used."
– Grace, Cork Nutrition Clinic
"Great to be able to buy Irish products that are really good quality. Great product advice & excellent customer service. Thank you."
– Catherine F.
"I very much recommend this company's products. I have been using a few of them now for the past four months and will continue to in order to keep up my healthy immune system. Great service and fast delivery too."
– Tracy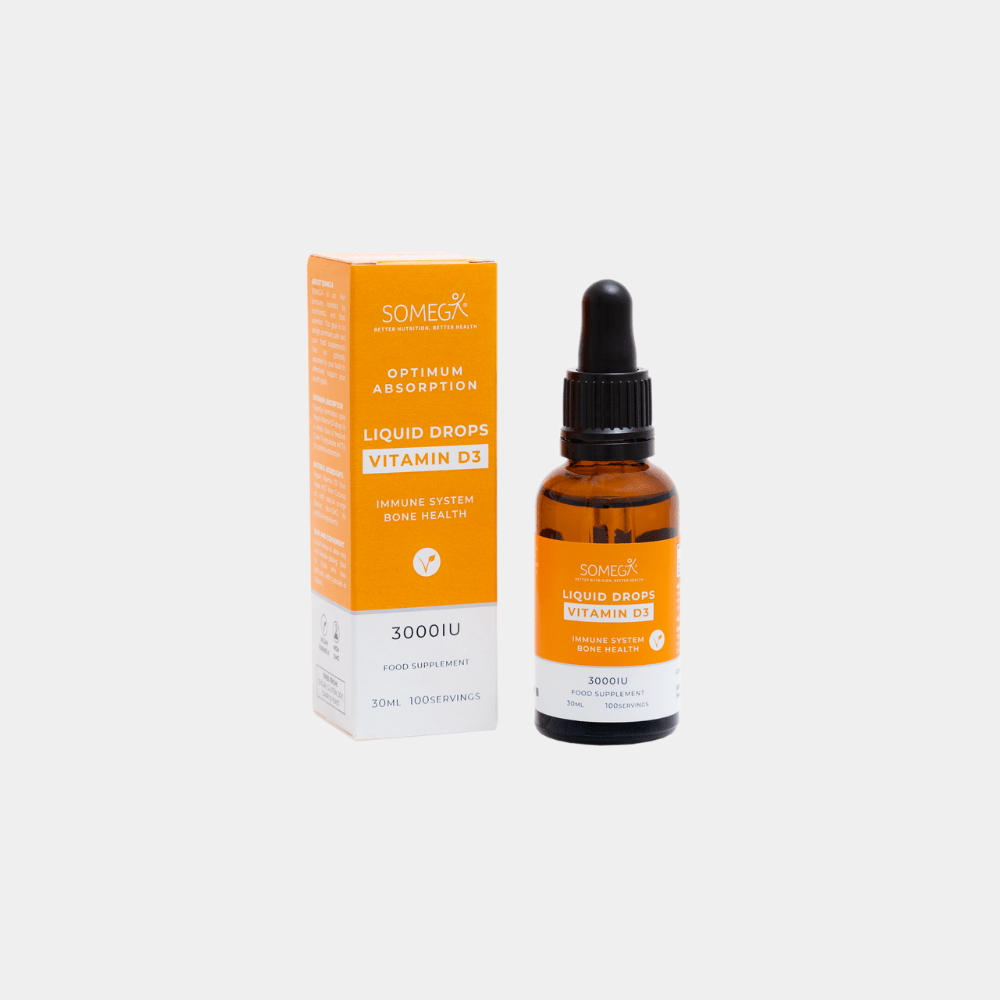 30ml / 100 Servings

€19.95
Vitamin D3 + K2 Oral Spray